Press release
10/01/2023
Stavian Group announced the go-live of the SAP ERP project and signed a comprehensive cooperation agreement with FPT Group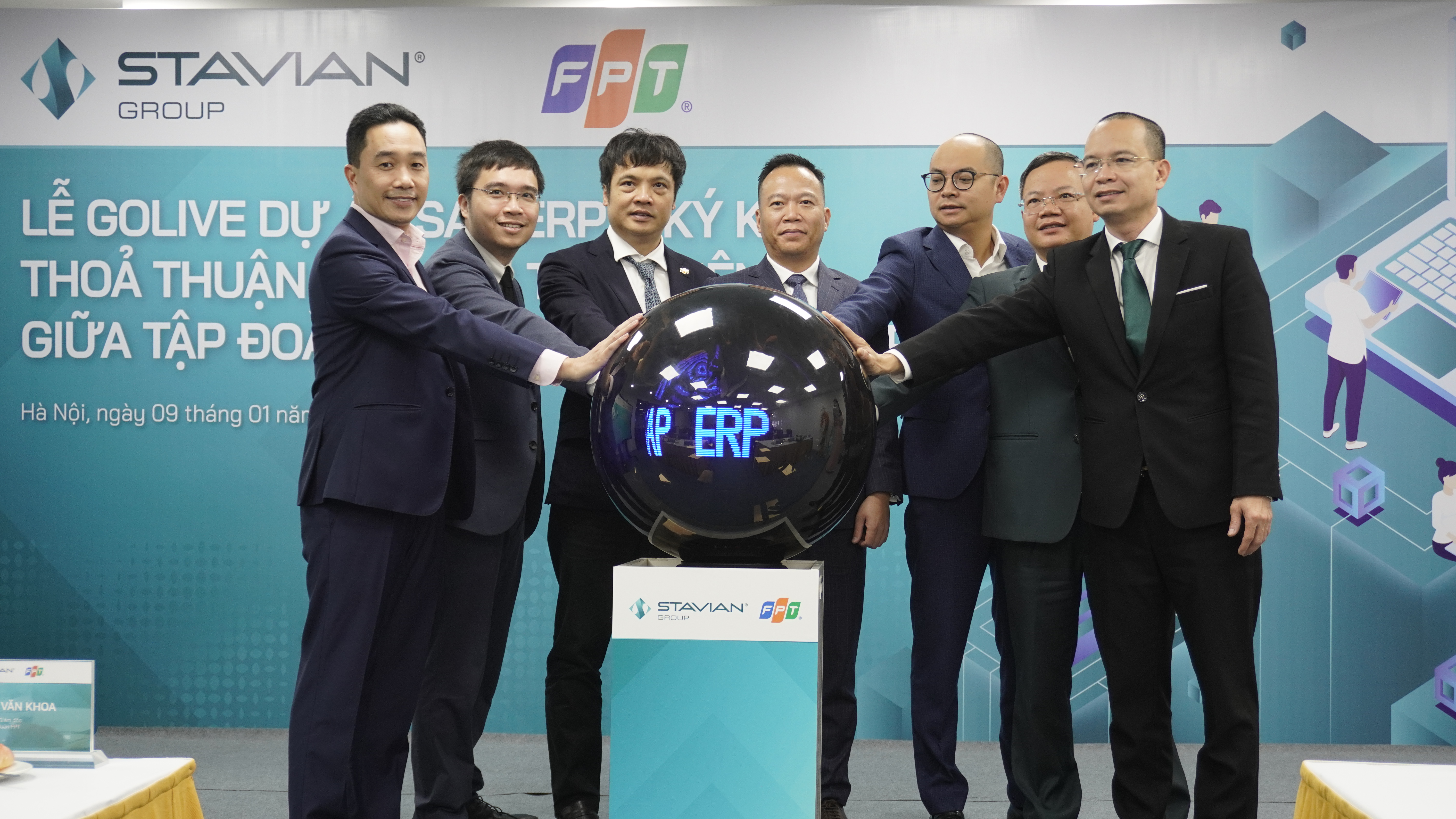 After one year of implementation, Stavian Group officially went live with its SAP ERP project, marking an important movement of the Group in the Industry 4.0 era. In the ceremony, Stavian Group and FPT Group also signed a comprehensive cooperation agreement regarding the application of digital solutions to business operations to improve efficiency and the Group's competitiveness in the international market.
On January 9, 2023, the Go-live of the SAP ERP Project & Signing Ceremony of Comprehensive Cooperation Agreement between Stavian Group and FPT Group took place at the headquarters of Stavian Group in Hanoi. The event was attended by Mr. Dinh Duc Thang – Chairman cum CEO of Stavian Group, Mr. Nguyen Van Khoa - General Director of FPT Group, Mr. Nguyen Hoang Minh - General Director of FPT Information System (FIS), and Mr. Nguyen Hong Viet - General Director of SAP Vietnam.
Mostly known for its outstanding achievement in the supply chain and manufacturing sector of the petrochemical industry, Stavian Group is also rapidly expanding its business worldwide, focusing on a variety of industries including petrochemicals, chemicals, pulp and paper, high-tech new materials, recycling, circular economy, industrial parks, logistics, and industry 4.0 venture capital. To operate this business ecosystem in an always-changing and multifaceted global trade situation, Stavian Group needs to tackle the challenges of a decentralized information system, resulting in limited resources and inconsistent availability of data for employees. Therefore, digital transformation has become one of the Group's key focus with lots of potential for further development.
Responding to Decision No. 749/QD-TTg on introducing a program for national digital transformation by 2025 with orientations towards 2030, Stavian Group implemented the business management system SAP S/4HANA, one of the most advanced enterprise resource planning software in business management. This is the digitalization solution that FPT Group has accompanied Stavian to deploy, covering the enterprise's four main pillars in the 4.0 era namely information system, ecosystem, customer experience, and Internet of Things. This will be the key for Stavian Group to streamline the operating system, enhance corporate governance, increase competitiveness, and expand international businesses. The Go-live event of the SAP ERP Project has truly marked a successful and important milestone for Stavian Group in its business digital transformation roadmap.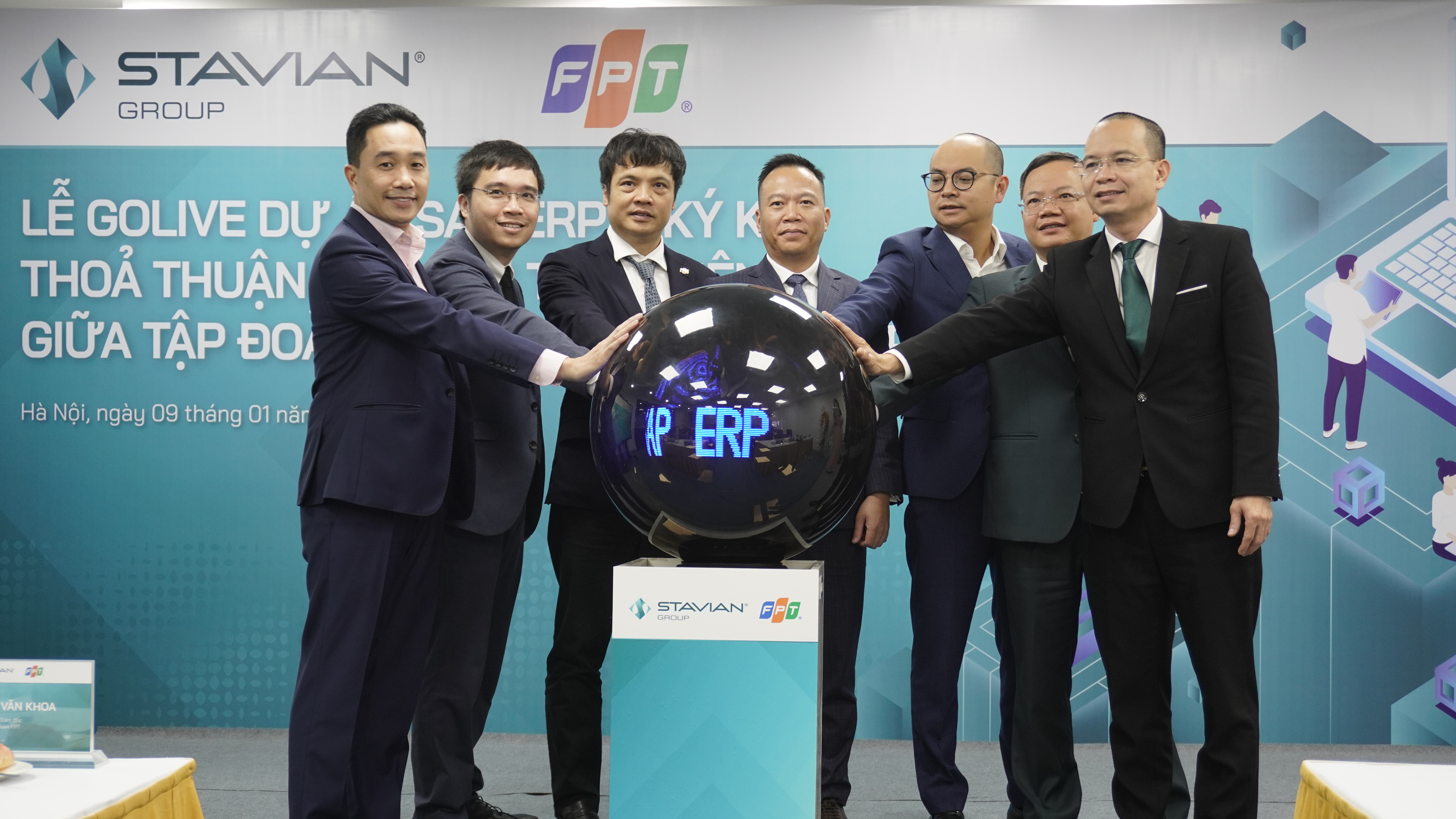 The Stavian Group officially runs the ERP Project.
At the ceremony, Stavian Group and FPT Group also signed a comprehensive cooperation agreement. Accordingly, FPT will accompany Stavian to develop and apply technology in various business aspects including agents and distributors management, distribution, business process automation, and other digital transformation solutions such as domestic and international transmission services, Internet connection, and advanced 4.0 technology solutions (e.g., AI, Chatbot, RPA, Data Analytics, Blockchain, etc.).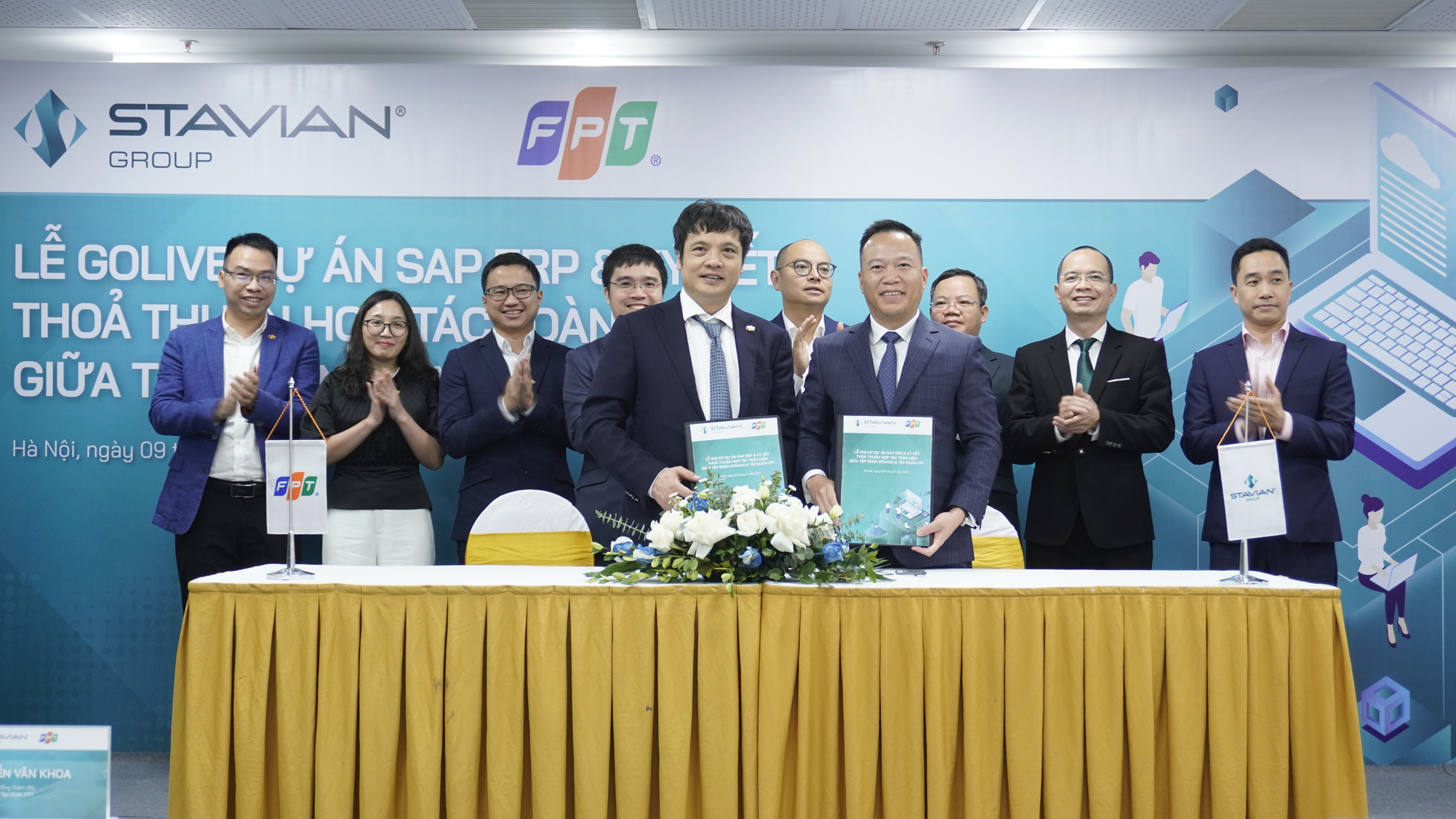 Mr. Dinh Duc Thang (right), Chairman and CEO of the Stavian Group, and Mr. Nguyen Van Khoa (left), General Director of the FPT Corporation, at the signing ceremony.
Mr. Dinh Duc Thang, Chairman cum CEO of Stavian Group expressed: "The SAP ERP solution is the foundation for Stavian Group in our next phase. With the vision of becoming a multinational industrial corporation, digital transformation is a sustainable movement that not only brings profits to businesses but also increases the competitiveness of the Vietnamese economy in the international market. We believe that FPT will help Stavian to accelerate digital transformation, thereby standardizing the entire business protocol, centralizing data, and connecting business subunits to the best corporate governance model. This cooperation with FPT is one of the important steps in our journey to become a leading digitalized industrial corporation in Vietnam and the region."
Mr. Nguyen Van Khoa, General Director of FPT Corporation shared: "The cooperation between FPT and Stavian is an important milestone in accelerating digitalization for one of the leading enterprises in the petrochemical industry in Vietnam, making an important contribution to realizing the transformation goal for Stavian. With SAP ERP and the digital transformation solutions from FPT, Stavian can optimize operations, reduce costs and save resources, thereby accelerating growth. We hope to continue to accompany Stavian and Vietnamese manufacturing enterprises, providing the right and winning digitization solutions for businesses".